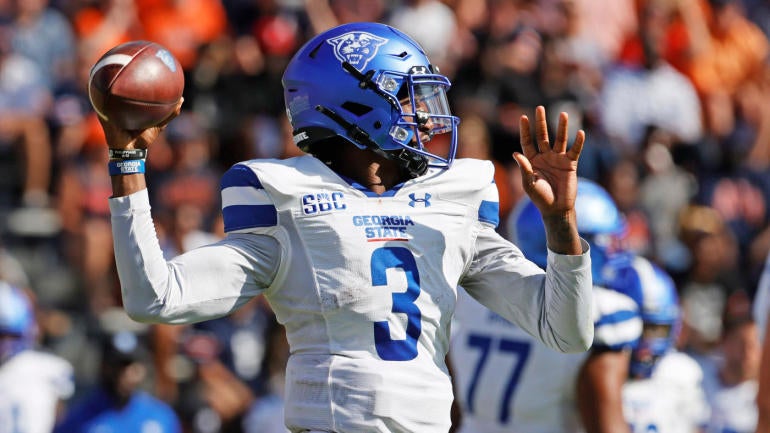 The Georgia State Panthers (7-5) and the Ball State Cardinals (6-6) clash in the Camellia Bowl at the Cramton Bowl in Montgomery, Alabama on Christmas day.
The game (2:30 p.m. ET start time) will be televised on ESPN. But if you don't have cable, here are some different ways you can watch a live stream of Georgia State vs Ball State online:
Were you ever treated to the story of Bowl Claus — the magical man who lives in Atlanta, Georgia, considered by many to be the North Pole of the South. He lives below an unspecified Chick-fil-A where he survives on unsold chicken sandwiches and spends the year preparing gifts for the good college football fans.
Then, every year on Camellia Bowl Eve, Bowl Claus flies around the United States on the private bowl jet he built for himself to deliver the gifts. Boosters receive money from unknown origins to use toward that coaching buyout they've been asking for. Good fans receive new bottles of face paint and attire in their favorite team's colors. College football bettors receive redeemable vouchers to make up for that one horrible beat from last week.
Then, after traveling around the entire country in one night spreading bowl season cheer, Bowl Claus heads to Montgomery, Alabama, and the Cramton Bowl so he can watch the Camellia Bowl in person. It's his last gift to us all, and this year Bowl Claus is giving us Ball State and Georgia State.
Ball State vs. Georgia State: Need to know
Georgia State is looking for its best season ever: On the one hand, Georgia State has been successful for a program that has existed on the FBS level for only nine seasons. This Camellia Bowl appearance is the program's third straight postseason appearance and fifth bowl game overall. On the other hand, Georgia State has never finished a season better than 7-5. The Panthers enter this game with a mark of 7-5, meaning a win over Ball State would give the program its first eight-win season in its short history.
Ball State took a step back this season: Last season in a COVID-shortened campaign, Mike Neu's team went 7-1 and beat Buffalo to win the MAC title. The Cardinals returned many key players, including quarterback Drew Plitt, and were expected to compete for another conference championship. Instead, Ball State went 4-4 in the MAC, losing to all three teams that finished above them in the division. A win against Georgia State would still give the Cardinals their first back-to-back winning seasons since 2012 and 2013. A loss would leave them with their eighth losing record in the last nine years.
The game will be decided on the ground: These teams are evenly matched in many ways, but the significant difference is Georgia State's rushing attack against Ball State's rush defense. The Panthers run the ball 62.3% of the time, which is the eighth-highest rate in the country. They're also good at it, averaging 5.45 yards per carry and ranking 20th nationally in rushing EPA. Ball State's defense hasn't fared as well, as it ranks 75th nationally in yards allowed per carry, 89th in defensive rush EPA and 77th in success rate against the run. If the Cardinals defense doesn't improve on prior performances, it will have a hard time winning this game.
How to watch Camellia Bowl live
Game: Camellia Bowl
Date: Saturday, December 25 | Time: 2:30 p.m. ET
Location: Cramton Bowl — Montgomery, AL
TV: ESPN | Live stream: fuboTV (Try for free)
Camellia Bowl prediction, picks
Featured Game|Ball State Cardinals vs. Georgia State Panthers
I don't think Ball State will slow down the Georgia State rushing attack as much as it needs to. If you look at the teams Ball State struggled with during the regular season, they were the teams that could run the ball. Also, while their records are similar, most underlying metrics suggest that the Panthers are the stronger team, and given how the MAC has struggled so far in bowl games, it's hard to trust a MAC team right now. Prediction: Georgia State (-5)